100% Kona Coffee
100% Kona Coffee has developed a reputation for its full-bodied flavor and pleasing aroma, making it one of the most sought-after coffees in the world. For coffee to be certified as 100% Kona Coffee, it must be grown on the Big Island of Hawaii within an approximately 2 x 30-mile area, known as the Kona Coffee District as well as pass strict grading standards measured by the State of Hawaii Department of Agriculture.
The Kona Coffee Trees
Kona Coffee trees thrive on the cool slopes of the Hualalai and Mauna Loa Mountains in rich volcanic soil and afternoon cloud cover. The Kona weather pattern of bright sunny mornings, humid rainy afternoons and mild nights creates favorable coffee growing conditions, giving Kona Coffee a distinct advantage over coffees grown in other parts of the world.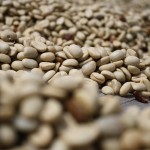 This perfect balance of morning sunshine and afternoon showers is found only on a narrow stretch of the Big Island of Hawaii known as the "Kona Coffee Belt." Throughout the centuries, rain erosion has broken down the lava produced by Hawaii's majestic volcanoes. The result is extraordinarily mineral-rich volcanic soil that nourishes the coffee cherries and gives them their superb flavor, exceptional body and earthy smoothness.
Kona Coffee trees typically bloom in February and March when small white flowers cover the tree, known as "Kona Snow". Green cherries begin to appear in April and by late August, red fruit (called "cherry" for its resemblance to a cherry fruit) starts to ripen. Each tree is hand-picked several times between August and January.
Kona Coffee Cherries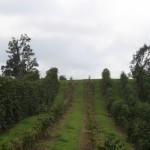 Kona Coffee cherries are run through a pulper within 24 hours of picking. After being separated from the pulp, they are placed in a fermentation tank overnight then rinsed and sun dried. It can take 3 to 5 days to dry the beans to an optimal moisture level. After drying, the beans are stored as "parchment" (a protective layer). The parchment is milled off the green bean prior to roasting.
The Kona Coffee Mill
Machinery at the coffee mill sorts the beans into different grades by size and shape. Coffee that consists of one round bean per cherry is known as "Peaberry" and is top of the line.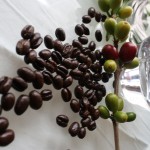 Peaberry coffee has a more concentrated flavor and makes up less than 5% of the total Kona Coffee harvest. Beans that consist of two beans per cherry, flat on one side and oval on the other, include the following grades: Kona Extra Fancy, Kona Fancy, Kona Number 1, Kona Select, and Kona Prime.